About Us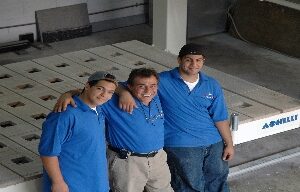 Family-owned and operated with decades of experience, Royal Marble Inc. practices treating each client as royalty. We treat each client as royalty. We have timely appointments with no charges or fees for precise laser measuring and estimates, customized design options, 1st quality stones (highest quality), fair and reasonable pricing, prompt fabrication and delivery with professional installation, and excellent customer service every step of the way.
We are an industry leader when it comes to offering our clients the latest in technological advancements. For example, we fabricate and polish each countertop with Italian-designed machinery (known as the best in the industry), diamond-impregnated tools and blades, along with laser measuring and computer generated templates for intricate projects to ensure the utmost of accuracy and precision for fabrication and installation.
Why Granite?
Granite is the most popular choice for natural stone for countertops for numerous reasons. Granite is available in a striking array of colors and patters, is durable, holds its luster and beauty for decades, and pays for itself with the value and beauty it adds to every client's home. In addition unlike high-price plastic and laminate countertops which destroy millions of trees, and use toxic resins and other chemicals, granite is 100% environmentally friendly, as granite is created over millions of years naturally within the earth, which afterwards we meticulously cut and polish before installing in your home.
Our Services
Cabinet
Back splash
Floor Tile
Counter Tops
Vanity
Fireplaces
Table Tops
We also work with Caesar Stone, Fire Stone, Santa Margherita
Contact Us
Whatever the size of your project, Royal Marble Inc. welcomes the opportunity to serve you and meet your needs. Call us today and you could start enjoying your new granite countertop in just a few days.
Location
1030 Cannons Court Unit C
Woodbridge, Va 22191
703-490-9988
Contact Details
1030 Cannons Court Unit C, Woodbridge, Va 22191
703-490-9988